Under Your Skin (Compact Disc)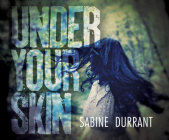 $59.99
Usually Ships in 1-5 Days
Staff Reviews
---
Gaby Mortimer, a TV personality, finds a body on an early morning run. Horrified by the poor girl's condition, she rearranges her clothes and smooths her hair. And shortly after the police arrive on the scene, it's clear that they consider Gaby herself a suspect.
With her husband out of town and reporters staking out her house, Gaby is pretty freaked out. Her TV show tells her to take some time off, so she decides to use it by looking into the murder herself.
Full of red herrings and literary slight of hand, Under Your Skin kept me guessing until the very end. No mean feat for a thriller lover.
One of this year's best…
— Jill
Description
---
Gaby Mortimer is the woman who has it all. But everything changes when she finds a body near her home. She's shaken and haunted by the image of the lifeless young woman, and frightened that the killer, still at large, could strike again. Before long, the police have a lead. The evidence points to a very clear suspect, one Gaby never saw coming. Full of brilliant twists and turns, Under Your Skin is a dark and suspenseful psychological thriller that will make you second guess everything. Because you can never be too sure about anything, especially when it comes to murder.